This was really tasty and I'm usually not one to enjoy sweet meals, guess those tastebuds are changing.
Boneless chicken thighs were chopped, and dredged in eggs (seasoned with cayenne pepper and a bit of salt) and then flour mixed with cornstarch (for extra crunch)
Didn't take any pictures of the sauce cooking but all I did was put it all together, bring to a boil and reduce.
What's in the sauce...
- 2 cups orange juice
- worcestershire sauce
- 1/3 cup brown sugar
- 1 stick (1/2 cup ) of butter
- & red pepper flakes


Adapted from
"Airman Anderson's Chicken"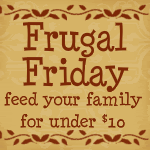 Tasty Tuesday
,
Tuesdays at the Table
,
Foody Friday
and
$5 Dollar Dinners